At Treemendous Tree Care Inc., our certified staff member are committed to providing top of the line stump grinding work for a competitive and reasonable price. Stop paying more money for less efficient work! Our equipment, experienced workers and our cutting edge stump grinding techniques makes it possible for us to give you great service at affordable prices that are lower than the competition. Our goal as a company is to treat each customer as one of our own and supply them with the best stump grinding service in Franklin Township PA.
While Treemendous Tree Care Inc. is highly experienced in stump grinding but can help you with other tree care needs as well. We have a staff of fully certified arborist with years of experience providing quality work in the area of tree removal, tree pruning, tree cabling, hazardous tree evaluations, storm damage, and anything else that you is related to tree work.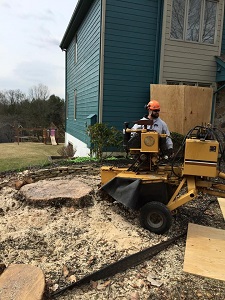 We care about your property and treat it like it was our home that we are working on. Each stump grinding project is unique in its own way and we approach each project differently with a customized solution to give our customers exactly what they are looking for. Our equipment is designed to make sure that nothing in your lawn is damaged during the stump grinding process. Many tree companies bring in large equipment weighing tons and ruining your lawn after the work was done. Not at Tremendous Tree Care. We will work with you to make sure that we achieve your goals while keeping your lawn/ property intact.
How to Calculate the Cost of Stump Grinding in Franklin Township
Calculating the cost of grinding a stump is fairly easy. A little measuring and some simple calculating and you're done.
We charge $4.00 per inch and can usually give a discount for more than one stump. (Depends on conditions)
The way you figure the inches is you measure the diameter (width) of the stump at ground level.
If the ground is humped up around the stump, extend the diameter to include grinding the hump to grade level. Always measure the widest point of the stump.
There is an additional charge if you wish for the Grindings to be hauled away by us as well. It's around double the price
Treemendous Tree Care, will also provide you with soil and seed after the stump is removed for an additional price
We have a $150.00 minimum charge. Additional charges may apply
If you are still having a difficult time figuring a price on your own we will go to the site and give you an estimate.